North East United States 12/28/2010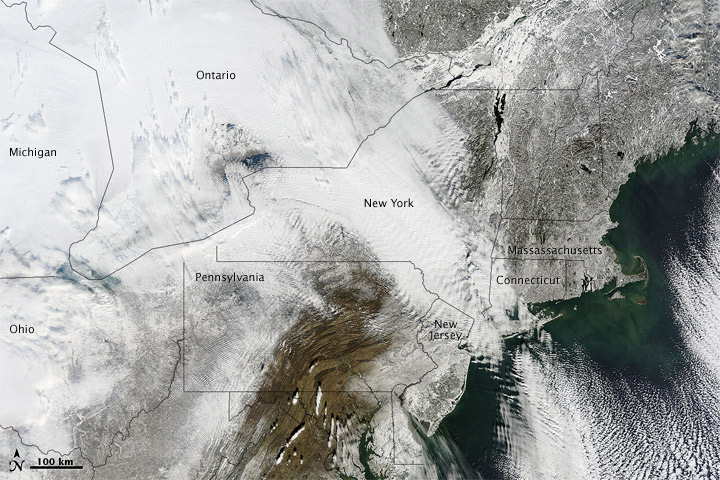 A severe winter storm dropped up to 32 inches (80 centimeters) of snow on parts of the northeastern United States in late December 2010. The two-day storm brought especially heavy snow to parts of New York, New Jersey, Connecticut, and Massachusetts, where wind gusts up to 80 miles (130 kilometers) per hour struck Cape Cod. Airlines canceled hundreds of flights, and tens of thousands of residents lost power. With ambulances stranded in snow-clogged streets, 911 dispatchers in New York City were forced to resort to triage.
The Moderate Resolution Imaging Spectroradiometer (MODIS) on NASA's Terra satellite captured this natural-color image of the northeastern United States and southeastern Canada on December 28, 2010. Snow and clouds blend seamlessly, but can be distinguished by their different textures. The wide swath of uniform white that extends from Michigan and Ontario toward the southeast is a cloudbank. Under clear skies, snow cover from the storm creates a mottled appearance.
As skies cleared over the northeastern United States, some residents enjoyed sledding and snowball fights while others endured backaches from snow shoveling. Thousands of airline passengers, meanwhile, awaited flights home from their holiday travels.
Courtesy NASA Earth Observatory