Eastern United States 12/27/04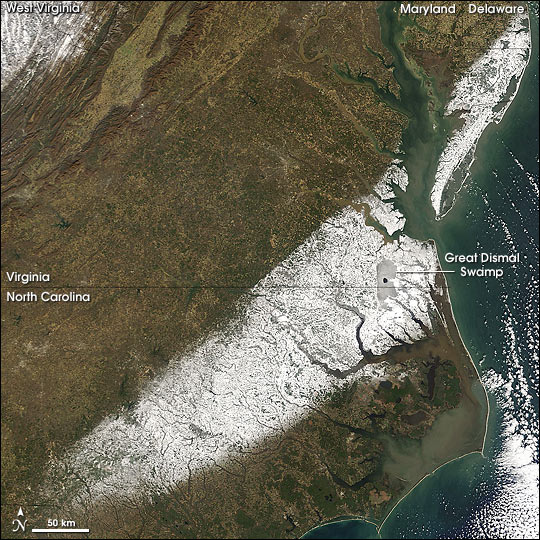 Winter Storm Slams North Carolina and Virginia
A post-Christmas winter storm brought ice and snow to South Carolina, North Carolina and Virginia, closing Interstate 95, stranding motorists and airline passengers, and knocking out power to more than 20,000 households. This image captured by the Moderate Resolution Imaging Spectroradiometer (MODIS) on NASA's Terra satellite on December 27, 2004, shows the aftermath of the storm, a white swath of snow stretching from the southern edge of North Carolina, through Virginia, and across the Chesapeake Bay into Maryland and Delaware. The snow highlights the Great Dismal Swamp, which straddles the state line between Virginia and North Carolina. In the upper left corner, snow covers the mountainous terrain of West Virginia.
Once covering over 5,700 square kilometers (about 2,200 sq mi), the Great Dismal Swamp today is less than 1,550 sq km (about 600 sq mi). Despite the shrinking size of the swamp, it remains densely wooded and a popular spot for wildlife and naturalists. At the center of the swamp is Lake Drummond, the swamp's highest point.
Text courtesy of NASA's Earth Observatory.
Image courtesy of NASA's MODIS Land Rapid Response Team.