Midwest U.S. 12/03/06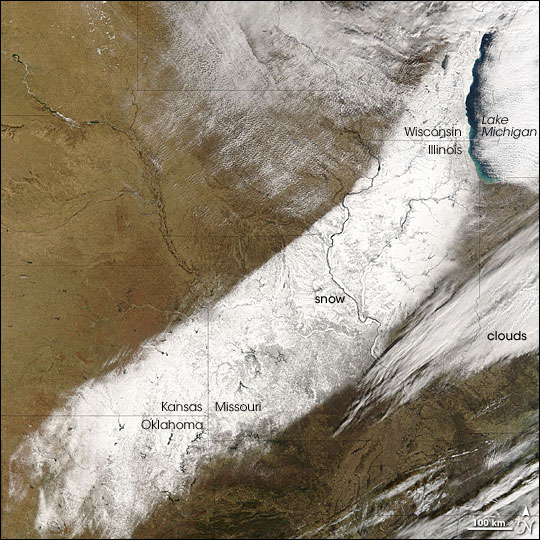 Heavy Snow in U.S. Midwest
A severe winter storm hammered the Midwestern United States on December 1, 2006. According to news reports, the storm iced roads, canceled flights, broke tree branches, left more than two million homes and businesses without electricity, and temporarily shut down part of Interstate 40 in central Oklahoma. Several deaths were linked to the storm, including deaths from traffic accidents and carbon monoxide poisoning.
The Moderate Resolution Imaging Spectroradiometer (MODIS) flying onboard NASA's Terra satellite captured this image of the storm's aftermath on December 3, 2006. By the time MODIS took this picture, the storm had moved off to Canada, and skies over the U.S. Midwest had largely cleared. In this image, the lingering snow looks like a giant finger-paint smear of white on a tan background. Streaks of clouds hover in the east, and lighter cloud cover remains in the north.
Besides power outages, the storm caused headaches for air travelers, according to The New York Times. Freezing rains followed by snowflakes built up thick ice at Lambert-St. Louis International Airport, forcing the cancellation of hundreds of flights. Besides heavy snow and grounded flights, O'Hare International Airport in Chicago saw the unusual occurrence of a lightning strike to a cargo plane. Although rare, thundersnow can mix electrical storm activity with snow rather than rain.
Text and image courtesy of NASA's Earth Observatory.