Midwest U.S. 11/29/05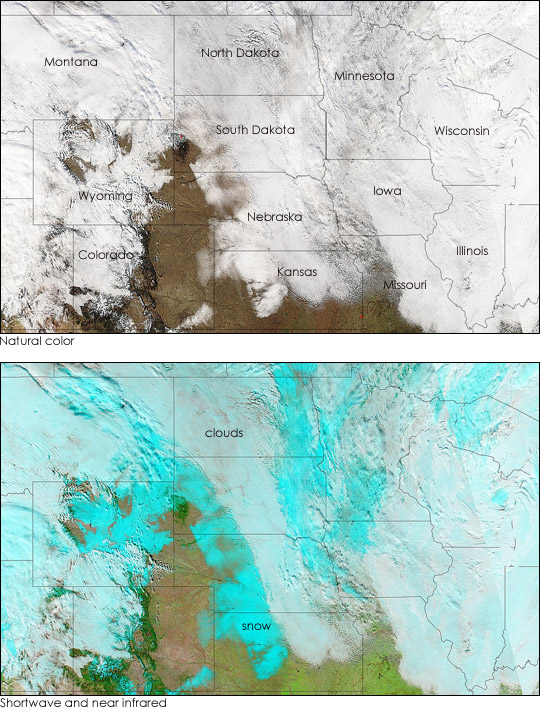 The first blizzard of the season descended on the Midwestern United States on Monday, November 28, 2005, stranding holiday travelers returning home. The storm dumped heavy snow from North Dakota to northern Texas, dropped damaging tornadoes in Kansas and Arkansas, and blasted the region with winds gusting to 110 kilometers per hour.
By Tuesday, November 29, the storm had pushed east, and only a few bands of clouds lingered over the Dakotas, Nebraska, and Kansas. Beneath the clouds, the Moderate Resolution Imaging Spectroradiometer (MODIS) on NASA's Aqua satellite detected a blanket of fresh snow.
The white of the snow and white clouds can be distinguished in the natural color image, top, only by their textures. The snow is a smooth white that clings to the landscape, while clouds tend to be more textured. The lower image shows the same scene in shortwave infrared and near infrared light, so snow is bright blue while clouds are white. The image makes it easier to differentiate between the back edge of the storm and the snow it left behind.
Text and image courtesy of NASA's Earth Observatory.