New England 11/14/04
MODIS true color image (bands 1, 4, 3) of New England, 14 November 2004.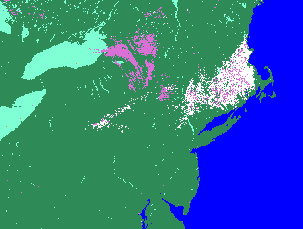 MODIS corresponding snow map of the Western United States, 14 November 2004.
The first snow storm of the 2004 season gave several states in the Northeast a white blanket in mid-November. On November 14, 2004, Terra MODIS captured the remains of the storm spread mostly in a horizontal band across (west to northeast) north-central Pennsylvania, New York, Connecticut, Rhode Island, and Massachusetts. From Massachusetts, the snow cover creeps into the southernmost corners of Vermont (above left) and New Hampshire (above right). Other interesting geographic features in the scene are Lake Ontario at left center edge and the narrow Finger Lakes in New York to the southeast. A large gray patch to the south of image center shows the location of the New York City metropolitan area. At bottom left corner, the Susquehanna River slows southeastward through the brown-and tan-striped lines of Pennsylvania's Ridge and Valley Province.
Text and image courtesy of NASA's MODIS Land Rapid Response Team.