California 10/31/04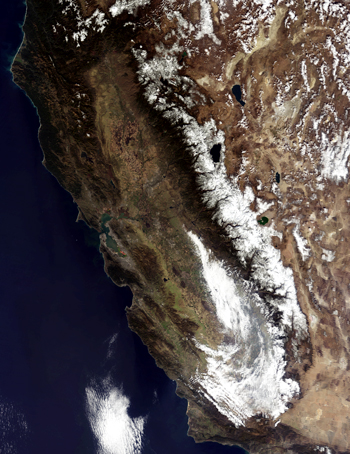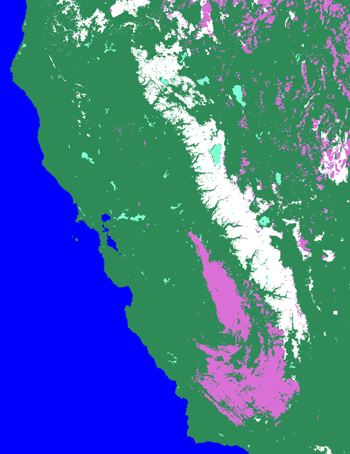 ( Click on images for full resolution versions. )
MODIS true color image (Left, bands 1, 4, 3) and snow map (Right) of California, 31 October 2004.
A powerful Alaskan storm swept over California during the final week of October, drenching the state with record rain and snow. The storm was the second large storm to move over California in as many weeks, and it left the Sierra Nevada Mountains coated in snow. In this Moderate Resolution Imaging Spectroradiometer (MODIS) image, taken by NASA's Terra satellite on October 31, 2004, after the clouds cleared, snow highlights the peaks of the long mountain chain that forms California's eastern border with Nevada. According to the Associated Press, the central Sierra Nevada received as much as 48 inches (1.2 meters) of snow in October, allowing ski resorts to open earlier than normal.
Ski resort owners are not the only people who are pleased with the snowfall — California relies heavily on melting snow for its water supply. Like much of the west, California has been in drought for the past six years, and while this snowfall alone is not enough to end the drought, it will help. At the end of October, many locations in California had set new records for monthly rain or snowfall totals.
The snow extends all the way down the 400-mile length of the Sierra Nevada Mountains in this image. On October 30, MODIS captured an image of snow even further south in the San Bernardino Mountains around Los Angeles.
Text courtesy of NASA's Earth Observatory.