Alaska 09/14/03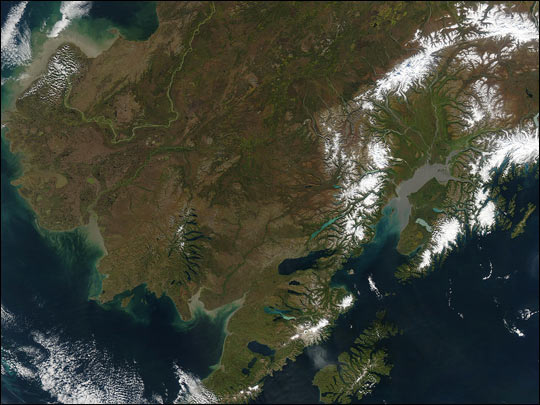 MODIS true color image of Alaska on the 14th of September 2003.
Corresponding MODIS snow map of Alaska on the 14th of September 2003.
A rare clear view of the state of Alaska reveals a beauty that is as spectacular from space as it is on the ground. On September 14, 2003, the clouds parted over the region, and showed the landscape already displaying fall color, although the official start of the season was a week away. The state is swathed in reddish browns, golds, and greens as summer's lushness fades. Scattered across the landscape are several dark brown patches that mark the location of fire-scarred terrain.
In the upper left corner of the scene, the Yukon River flowing down from the north as a bright green ribbon, emptying sediment and other organic matter into Norton Sound. Right of center, Cook Inlet is colored gray by fine glacial silt brought in by the Susitna River and its tributaries. Snow-covered mountain ranges, including the Alaska Range to the north, surround the Inlet. At bottom, to the right of center, is Kodiak Island.
These images were captured by the Moderate Resolution Imaging Spectroradiometer (MODIS) on the Aqua satellite.
Image courtesy of Jeff Smaltz, MODIS Land Rapid Response Team, NASA GSFC.
Text courtesy of NASA's Earth Observatory.