New Zealand 07/11/03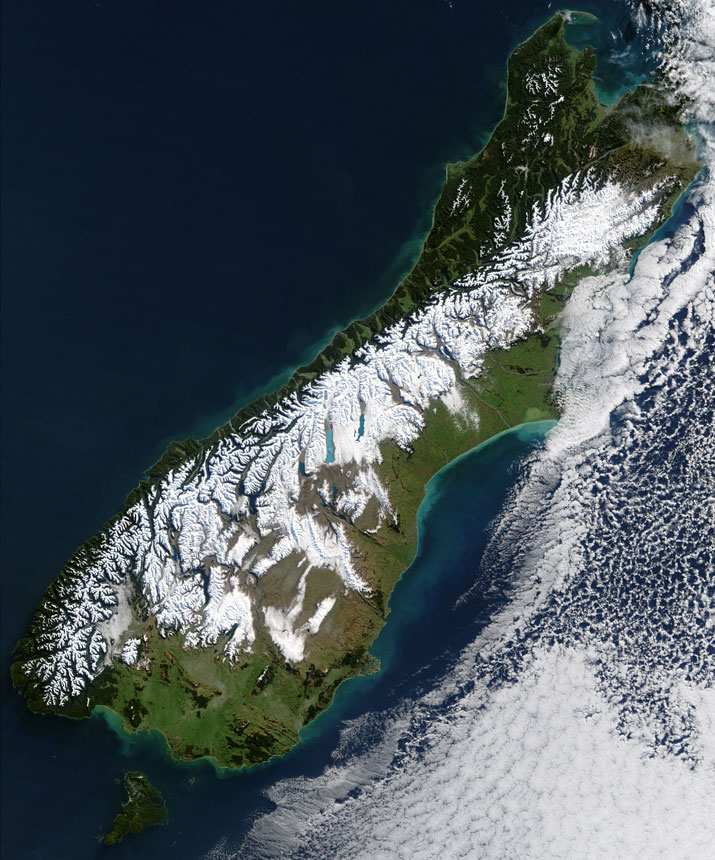 MODIS true color image of New Zealand on the 11th of July 2003.
On July 11, 2003, the Terra MODIS instrument acquired this true-color image of the remains of the biggest blizzard to hit New Zealand in the past 50 years. The bright white snow contrast sharply with the deep green vegetation of the coastal areas as well as with the bright blue glacier-fed lakes scattered across the Southern Alps, which march the length of South Island. The blizzard, which blew out of the Antarctic, was reported to have stranded hundreds of motorists and isolated more than 400 skiers at a mountain resort. In places, the storm brought ice and freezing rain, which made the roads especially treacherous and brought down trees and power lines.
New Zealand sits between the Tasman Sea to the east and the Pacific Ocean to the west, and over 1,000 miles (1600 km) southeast of Australia. Also visible just off of South Island's southern point is Stewart Island. Between the two is Foveaux Strait, which is home to large oyster beds.
True color image and text courtesy of NASA's MODIS Land Rapid Response Team.
Corresponding MODIS MOD10_L2 snow map of New Zealand on the 11th of July 2003.