Chile 05/25/05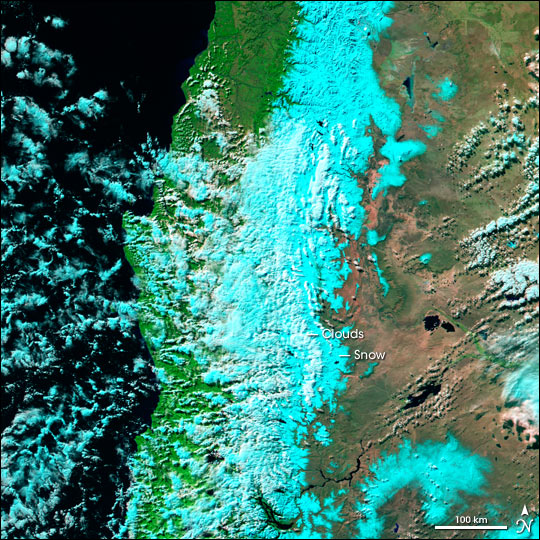 Blizzard in southern Chile
An early winter blizzard blanketed the Andes with snow on May 18, 2005. The storm turned tragic when nearly 400 soldiers got lost in the mountains. As of May 26, news reports say that 34 of the soldiers died and 11 remain missing. It is Chile's largest peace-time military loss.
The Moderate Resolution Imaging Spectroradiometer (MODIS) on NASA's Aqua satellite captured this false-color image of the snow-covered region on May 25, 2005, as the clouds began to clear. Snow in this image is bright blue and clouds are white and light blue. Though the icy tops of some of the clouds are the same color as the snow, the snow clings to the ground, tracing the contours of the rugged mountains. The snow is also consistently blue, whereas the clouds are flicked with white.
Text courtesy of NASA's Earth Observatory.
Top image courtesy of NASA's MODIS Land Rapid Response Team.