Colorado 05/16/05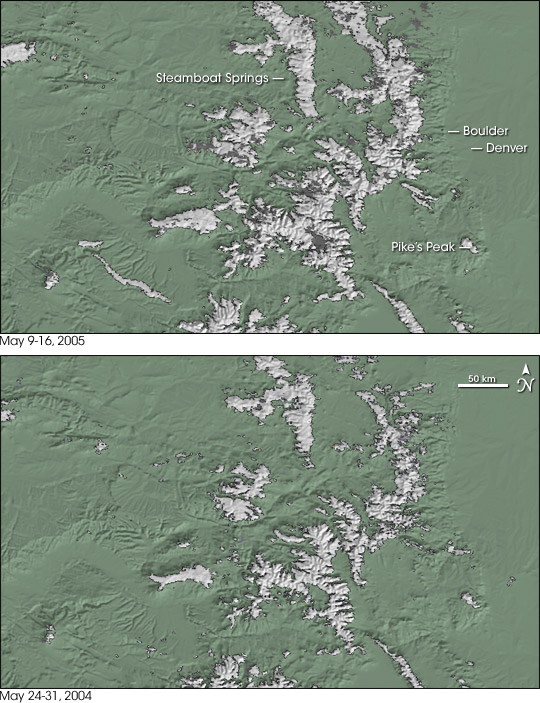 Comparison of Colorado Snow Extent
High and dry, Colorado depends on spring snowfall in the Rocky Mountains to provide much of the state's water. The spring of 2005 has been kind to the area, bringing a healthier dose of snowfall than did the spring of 2004.
These images compare snow-covered areas in the Colorado Rockies from May 9 through 16, 2005 (top), to snow extent from May 24 through 31, 2004 (bottom). If an area was covered by snow at least one day during the 8-day period, it shows up as snow-covered (white) in the image. In other words, all the areas colored white had snow on them at least one day in each period.
The differences during these two 8-day periods are most obvious in northern Colorado. Near the top of the image both the Park Range (home to Steamboat Springs) and the Front Range (to the east) are more snow covered in 2005 than they were in 2004.
On April 10, 2005, a surprise storm provided Colorado with a temporary reprieve from a multi-year water shortage. The threat of drought frequently looms over the state, whose population has increased approximately 20 percent over the last decade.
The April 2005 storm is not the first time in recent years that snowfall rescued Colorado residents from water shortages. Colorado was headed for a severe drought when a 2003 spring blizzard dropped nearly three feet of snow in the Denver metro area, and several feet of snow in parts of the Rockies.
The maps are based on data collected by the Moderate Resolution Imaging Spectroradiometer (MODIS) on NASA's Terra satellite.
Text and images courtesy of National Snow and Ice Data Center and NASA's MODIS Land Rapid Response Team.