Eastern United States 03/29/04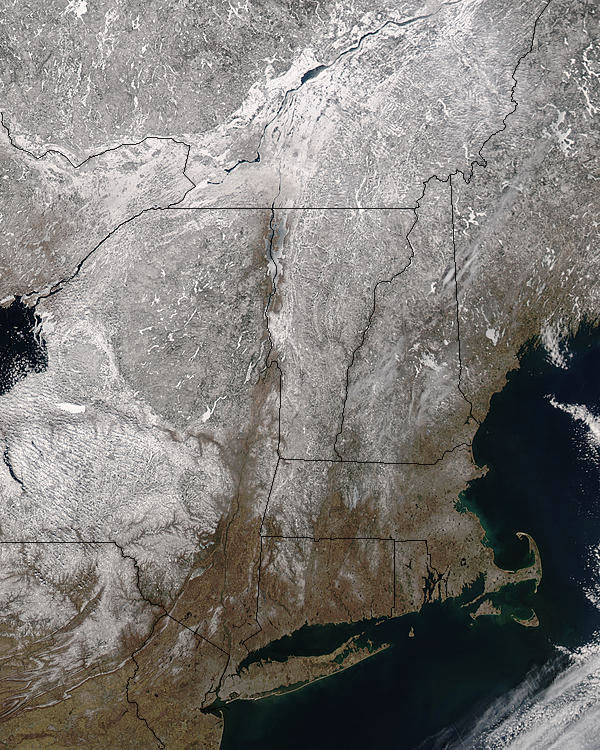 Aqua MODIS true color image of the Eastern United States, 22 March 2004.
Spring arrived with a snowstorm in the Northeast U.S. on March 22, 2004. An afternoon overpass of the Aqua satellite allowed MODIS to capture this image of the region blanketed in white. Snow covers (clockwise from top left) Quebec Province, Maine, New Hampshire, and parts of Massachusetts, Rhode Island, Connecticut, New York, New Jersey, and Pennsylvania.
At the boundary between New York and Vermont (image center), the Hudson River Valley appears brown and relatively snow-free; however Lake Champlain, at the northern limit of the states' shared boundary, is still frozen. To the west, snow stands out brightly on the surface of numerous small, frozen lakes in the Adirondack Mountains. At left center edge is the easternmost of the Great Lakes — Ontario, with Ontario Province to its north. In the top center of the scene, the St. Lawrence River flows northeast past Montreal like a blue ribbon. At bottom left, snow dusting ridgelines highlights the topography of the Appalachian Ridge and Valley Province in Pennsylvania.
Text and image courtesy of NASA's MODIS Land Rapid Response Team.