Arizona 03/14/06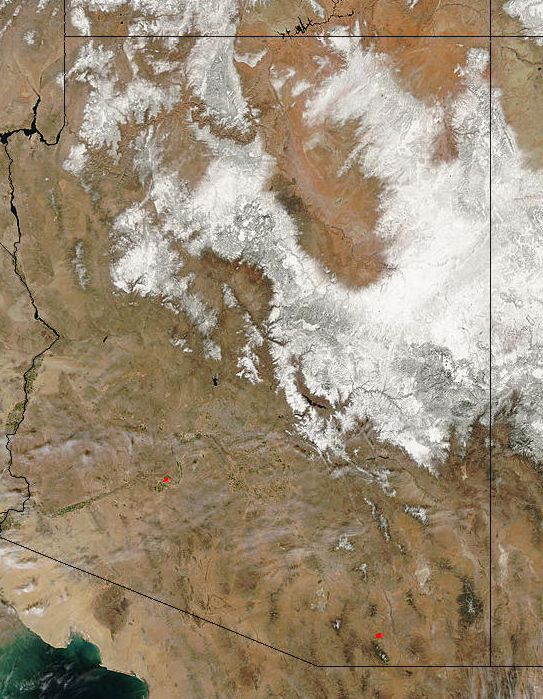 MODIS true color image (bands 1, 4, 3) of Arizona on the 14th of March 2006.
After a record 143 days without measurable precipitation, Phoenix, Arizona, received a record 1.40 inches of rain on March 11, 2006, the National Weather Service reported. In the mountains and highlands of northern and eastern Arizona, the precipitation fell in the form of snow. Temperatures were cool enough that much of the snow remained on March 14, 2006, when the Moderate Resolution Imaging Spectroradiometer (MODIS) on NASA's Terra satellite captured this image. Snow covers most of northeastern Arizona except for the Painted Desert, the finger of pink that extends into the snowfield. In northwest Arizona, snow flanks the Grand Canyon, but the canyon itself is clear. The snowfall extended north into Utah and Colorado and east into New Mexico. Though the rain and snow were a welcome respite, the storm couldn't deliver enough moisture to break the four-month-long drought that has gripped the region. The record dry spell was unusual not only because of its length, but also because of its timing. Most of the rain that falls in the Desert Southwest typically falls between November and February, but in 2005 and 2006, those months were dry.
Text and image courtesy of NASA's MODIS Land Rapid Response Team.