Northeastern US 03/14/05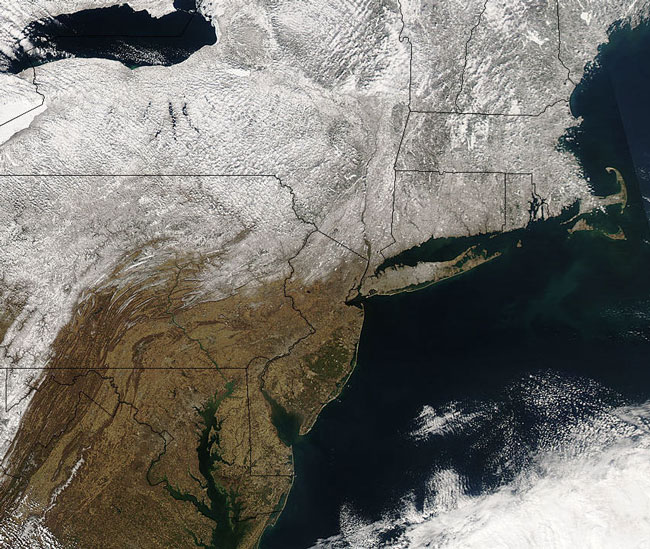 MODIS true color image (bands 1, 4, 3) of the Northeastern US, 14 March 2005.
Snows line the Appalachian Range and lands north, while the lowlands to the south and east remain bare to the late-winter sun in this true-color Aqua MODIS image of the eastern United States from March 14, 2005. The Appalachians run generally northeast in thin folds through southwest Virginia, West Virginia, western Maryland, and central Pennsylvania. This range is an extremely old and eroded collection of mountains that proved a significant barrier to early westward expansion. Today the range is famous for its 2,144 mile-long (3,450 km) Appalachian Trail, Great Smokey and Shenandoah national parks, and fertile valleys - the Great Appalachian Valley stretches in a chain of smaller river valleys from the St. Lawrence River valley in Canada to the Tennessee River valley in the southern US.
Two major bays are visible in the lower portion of this image: Chesapeake Bay (stretching from image bottom center to the northeastern Maryland border) and Delaware Bay (separating Delaware in the west from New Jersey in the east). Both bays are home to large US shipping ports, recreational areas, and wildlife (especially waterfowl) habitats. Red Knots, Ruddy Turnstones, Sanderlings, and Semipalmated Sandpipers all stop in these areas every spring to feed and rest before continuing their migrations north toward the Arctic Circle.
Text and image courtesy of NASA's MODIS Land Rapid Response Team.