Yukon Delta, Alaska 03/08/04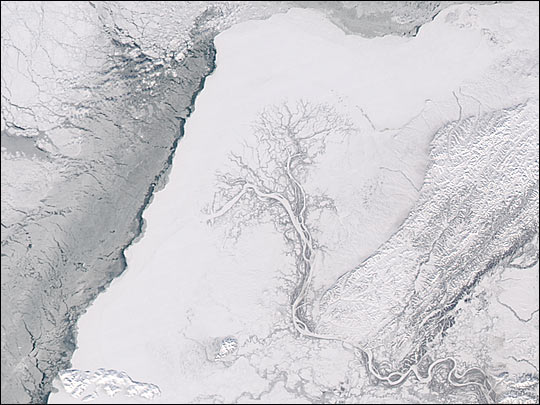 Aqua MODIS true color image of Alaska, 8 March 2004.
On the verge of spring, the silvery etching of a tree appears across the winter white of western Alaska. Interlaced branches of waking-up streams weave across the wetlands of the Yukon Delta and reach toward the sea. To the west, the sea is softening the frozen shoreline, and blue-green waters showing through cracks and crevices in the ice provide the scene's only color.
This image was made by the Moderate Resolution Imaging Spectroradiometer (MODIS) sensor on NASA's Aqua satellite on March 8, 2004. The high-resolution image shows almost the entire state.
Text and image courtesy of NASA's MODIS Land Rapid Response Team.