Europe 02/24/05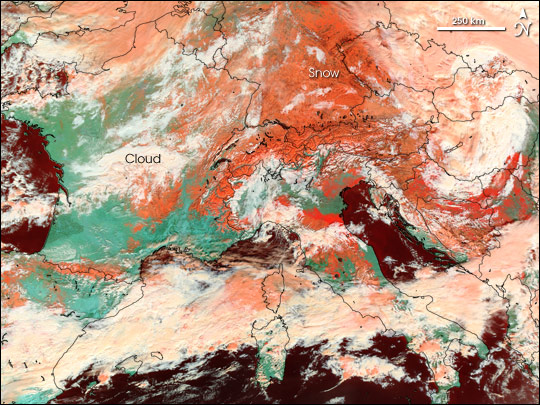 Snow Hammers Europe - MODIS false color image (bands 3, 6, 7).
Clouds still lingered over much of Europe after winter snow blanketed much of the continent during the last week of February 2005. The snow closed roads and delayed flights in France, the United Kingdom, Italy, and Germany. This image, taken on February 24, 2005, hints at the extent of the snowfall under the clouds. To differentiate between white clouds and white snow, this image was created with both shortwave infrared and visible light. The resulting combination makes the snow appear dark red, while clouds are white and lighter peach. A band of snow stretches down the spine of Italy, and patches of snow are spread across France, left. Germany and all countries to its east and southeast appear to be entirely covered with snow. The Moderate Resolution Imaging Spectroradiometer (MODIS) flying aboard NASA's Terra satellite acquired the image.
Text courtesy of NASA's Earth Observatory.
Images courtesy of Jesse Allen and NASA's MODIS Land Rapid Response Team.