Hindu Kush 02/16/05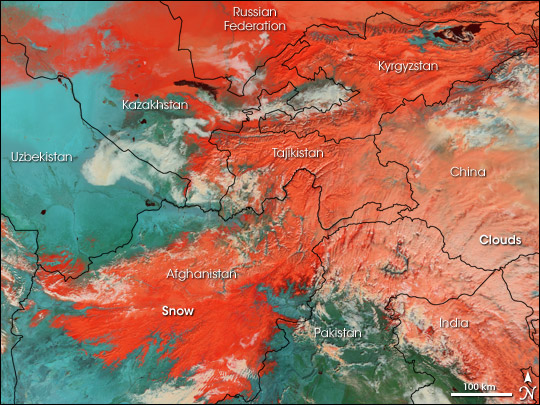 Snow in the Hindu Kush - MODIS false color image (bands 3, 6, 7).
Winter settled heavily over the Hindu Kush, the mountains that curve through Afghanistan and cut into Pakistan and Tajikstan. Northern Pakistan saw it's heaviest snowfall in 30 years, the worst of it coming during the first two weeks of February. The heavy snow has devastated all three countries, literally crushing houses and buildings and burying communities in avalanches. Tajikistan alone experienced more than 100 avalanches in populated regions after two meters of snow fell in the mountains. Officials in northern Pakistan report that 270 have died in the snowfall and avalanches, and nearly as many more have been injured. Deaths in Afghanistan have been attributed to extreme cold and related illnesses.
This Moderate Resolution Imaging Spectroradiometer (MODIS) image, acquired on February 16, 2005, by NASA's Terra satellite, shows the extensive snowfall across southwest Asia. The image is in false color to differentiate between cloud and snow, with snow in dark red and clouds in lighter orange. Vegetation is dark green, while bare desert soil is blue-green. Clouds still blanket northern Pakistan where the storm rages on. Tajikistan is entirely covered in snow, and the central mountainous region of Afghanistan is similarly blanketed in snow. The widespread snow has cut off many of the regions in need of aid, particularly in Afghanistan, where food shortages have driven up prices in areas where food was already scarce.
Text courtesy of NASA's Earth Observatory.
Images courtesy of NASA's MODIS Land Rapid Response Team.