Western United States 02/14/02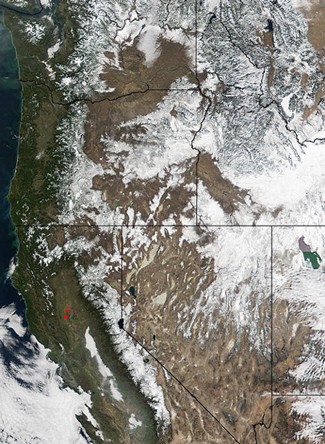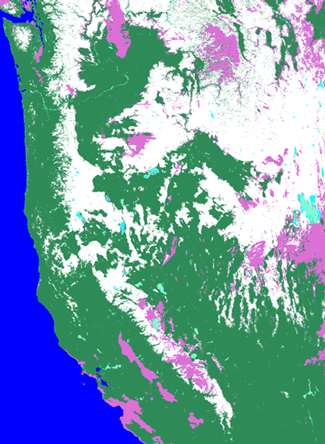 MODIS true color image of the Western United States on the 14th of February 2002. Click on image for a view of the full scene at a resolution of 500 meters per pixel.
Corresponding MODIS MOD10_L2 snow map.
On Thursday (Feb. 14, 2002), the cloud cover that often overshadows the western United States this time of year broke to provide those at the Olympic Games with a beautiful day. The nearly cloud-free day was captured by the Moderate-resolution Imaging Spectroradiometer (MODIS), flying aboard NASA's Terra spacecraft. A thick layer of snow blankets northernmost Nevada, northern Utah, most of Idaho and western Wyoming. The snow surrounds and highlights Utah's Great Salt Lake. Just south of the lake, clouds can be seen hovering over southern Utah. (In general, clouds appear streaky and uneven on a satellite image, and snow cover appears solid with definable borders.) North of the Great Salt Lake, one can clearly discern the light gray Northern Rocky Mountains cutting through Idaho and up into Canada. Moving southwest, the spine-like Sierra Nevada mountains separate the greenery of Southern California from the brown deserts of Arizona and Nevada.
True color image and text courtesy of NASA's Earth Observatory.