Northwestern United States 02/06/03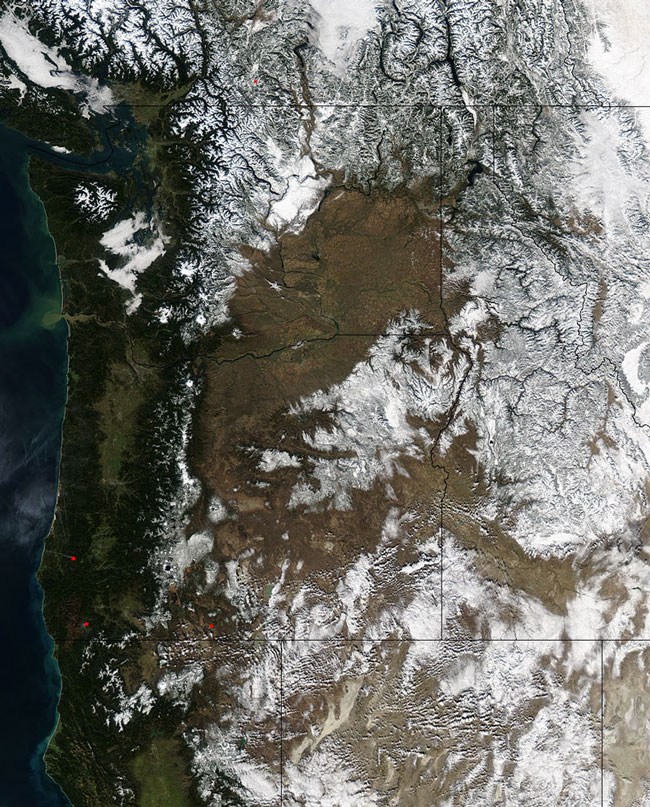 MODIS bands 1,4,3 RGB true color image of the Northwestern US on the 6th of February 2003.
Snows dust the mountains of southwestern Canada and the northwestern United States while the plains and lower elevations remain relatively clear. The northern Pacific Ocean runs down the left side of the image, while in the upper left corner the Juan de Fuca Strait and Georgia Strait divide Vancouver Island from mainland British Columbia (Canada) and Washington state (US). Next to the province of British Columbia is the province of Alberta, the two of which share a border along the northern Rocky Mountain Range (upper right).
The stripe of green running down the west coast shows the Coast Range mountains, which abut against the brownish-black Cascade Range mountains. To the right of the Cascades is the High Desert of southern Oregon. At the bottom edge of the image, the Coast Range is divided from the northern Sierra Nevada Mountain Range by the bright green streak of California's San Joaquin Valley. Also, MODIS detected a number of fires, marked in red, along the California - Oregon border in the bottom left quadrant of the image. This true-color image was acquired February 6, 2003.
Image and text courtesy of NASA's MODIS Land Rapid Response Team.