Iran 01/26/05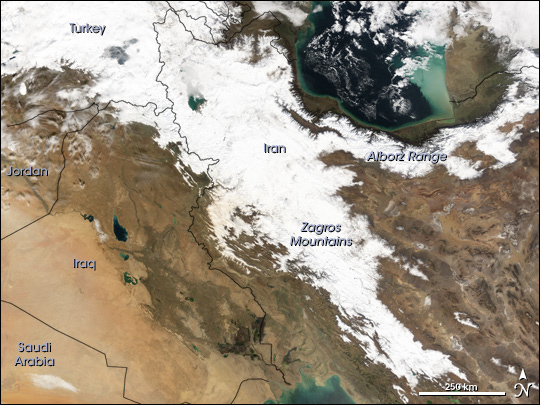 ( Click on images for high resolution version. )
Snow in Iran
Heavy snow settled over Iran on January 23, 2005, closing roads and isolating many northern villages. The snow fell heaviest in the northern Zagros Mountains, where as much as 75 cm (32 inches) fell in a single night, but the white extends south along the spine of the mountains almost to the Persian Gulf. The snow also covers the Alborz range in the northeast. Located along the southern front of the Alborz mountains, Iran's capital, Tehran, was also blanketed with snow.
This true-color image of the snow-covered region was acquired on January 26, after the clouds had largely cleared from the region. It appears that the snow extends across the border into Turkey and northern Iraq, though clouds make it difficult to see the extent of the snow cover in Turkey.
The same weather system that brought snow to Iran also triggered a massive dust storm in the Persian Gulf states. Dust from the storm settled on the snow in western Iran, near the Iraqi border, giving the snow-covered mountains a slightly tan tint.
Text and image courtesy of NASA's Earth Observatory and MODIS Land Rapid Response Team.