California 01/23/08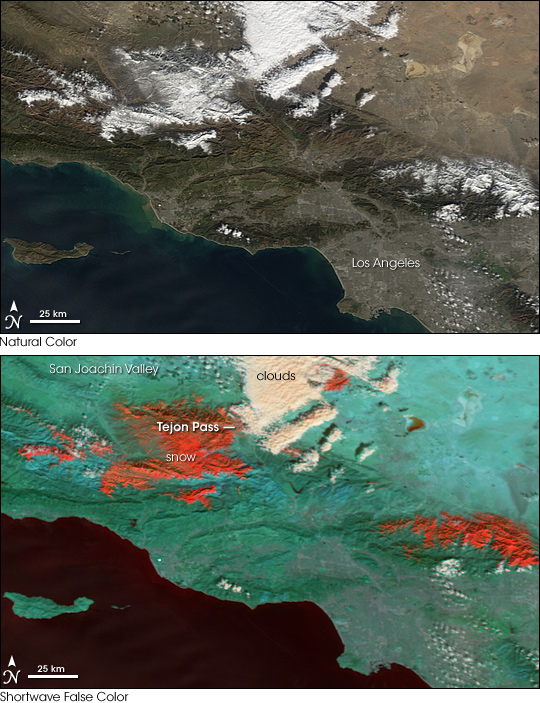 Heavy snow in the mountains around Los Angeles brought traffic on Interstate 5 in California to a grinding halt on January 23, 2008. The Tejon Pass through the mountains between the city and California's Central Valley was closed to traffic for a forty mile stretch between Bakersfield and Santa Clarita, said CNN on January 24. As much as 60 centimeters (two feet) of snow were reported to have fallen in the mountain pass.
The Moderate Resolution Imaging Spectroradiometer (MODIS) on NASA's Terra satellite acquired this pair of images of the area on January 30, almost a week after the heaviest snow, when skies over the region were clear of clouds. The top image shows a natural-color view; the bottom is a false-color combination using shortwave-infrared wavelengths of light. In this false-color treatment, snow and clouds appear quite different from each other rather than blending as they would if viewed in a photograph. Snow is deep orange, clouds are white, and vegetated land has a blue-green tone. Snow in both images is scattered on the peaks all around the Los Angeles basin.
At lower altitudes, the same storm brought heavy rains, causing floods that blocked many roads throughout Southern California, reported CNN. Santa Barbara set a rainfall record, receiving 4.16 inches of rain on January 23, said CNN.
Text and image courtesy of NASA's Earth Observatory.