New Mexico 01/23/05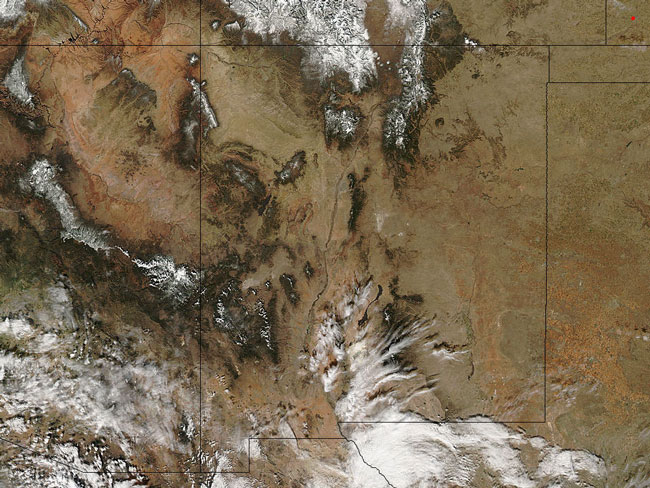 MODIS true color image (bands 1, 4, 3) of New Mexico, 23 January 2005.
Through all seasons the United States Southwest region is painted in breathtaking shades of colors, from the tan and pale orange of high-altitude deserts to the deep green, brown, and ochre of mountains and plateaus. White snow and clouds alternately highlight and hide the landscape, creating an ever-changing portrait of America's frontier heritage. Central in this true-color Aqua MODIS image from January 23, 2005, is the state of New Mexico. Nicknamed the "Land of Enchantment," the state is a collage of deserts, mountains, forests, and fertile valleys. In the northwest, the state forms the "Four Corners" with Arizona, Utah, and Colorado; this spot is the only place in the United States where a person can stand on four states at once. To the south, New Mexico shares borders with Texas and Mexico, and to the northeast a relatively small border with Oklahoma.
The image is bisected by the Rio Grande. This river is the chief source of fresh water for New Mexico, and forms the US-Mexico border along Texas' southwestern edge for many hundreds of miles. It provides valuable irrigation for agriculture in both the US and Mexico, and is dammed in four locations - at Elephant Butte and Caballo in New Mexico, and Amistad and Falcon in Texas.
Text and image courtesy of NASA's MODIS Land Rapid Response Team.