Southwest Asia 01/15/08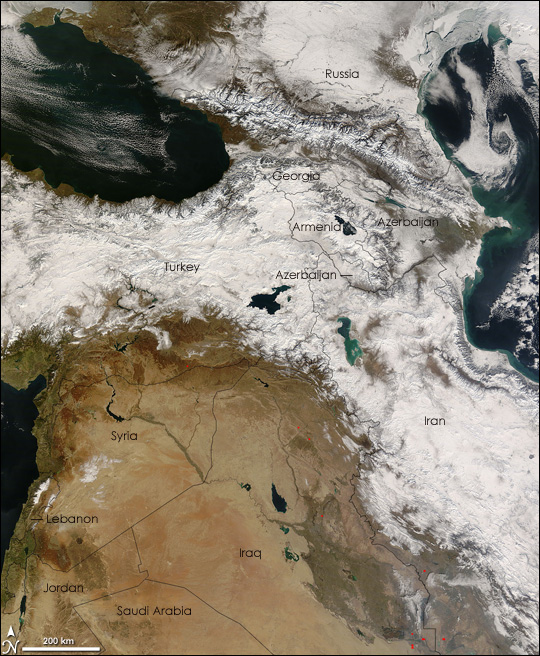 Winter settled heavily over Southwest Asia in January 2008. Intense cold and moist air to bring rare or unusually heavy snow to Iraq and Iran. Snow arcs from Iran to Turkey in this photo-like image captured by the Moderate Resolution Imaging Spectroradiometer (MODIS) on NASA's Terra satellite on January 15, 2008. AccuWeather reported that bitter cold air over central Asia caused "sea-effect" snow along the southwestern shores of the Caspian Sea (top right). The cold air moved over the Caspian Sea, picking up moisture, which fell as snow over the mountains of eastern Iran and Azerbaijan. Since the southern shore of the Black Sea (top left) is also snowier than its northern shore, some of this snow may be sea-effect snow as well.
The wintry weather pattern brought snow or rain to much of the Middle East. Though the continuous band of snow does not extend farther south than northern Iraq in this image, a dusting of snow covers the mountains of Lebanon and parts of the Syrian Desert. Red dots mark the location of fires or gas flares.
The large image provided above has a resolution of 250 meters per pixel, MODIS' maximum resolution. The image is available in additional resolutions from the MODIS Rapid Response System.
Text and image courtesy of NASA's Earth Observatory.