Morocco 01/01/05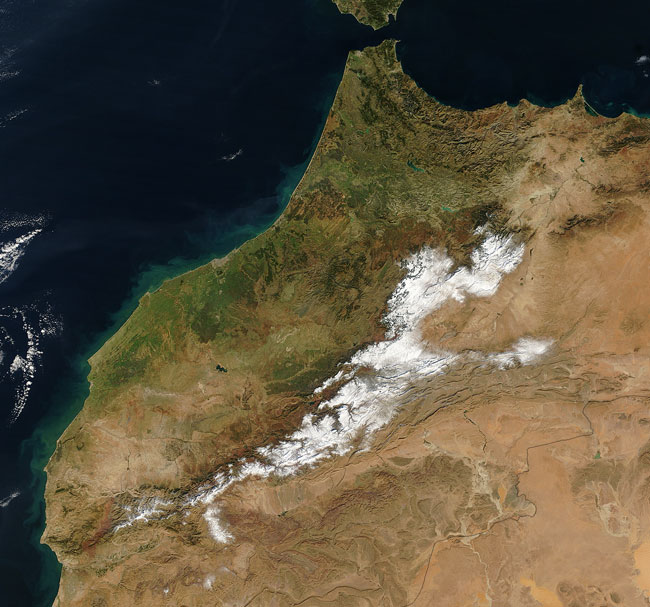 MODIS true color image (bands 1, 4, 3) of Morocco, 1 January 2005.
While green vegetation covers the lowlands of western Morocco, winter visits the Atlas Mountains at its center. Acquired on January 1, 2005, this true-color Terra MODIS image shows a country rich in color, history, and geography. To the west is the Atlantic Ocean; to the northeast is the Mediterranean Sea. Between the two is the Strait of Gibraltar. To the southwest is Algeria, with which Morocco shares an uneasy border. This region of North Africa has come under the influence or control of the Berbers, Phoenicians, Romans, Arabians, and the French at one time or another, and each has made an impression on the country's culture.
The famous city of Casablanca appears as a grey smudge on Morocco's northwestern coast, and the nation's capital, Rabat, sits on the coast just about 75 kilometers to the northeast, right where the coast curves abruptly to the north toward the Strait of Gibraltar. The city of Tangier, Morocco's most common point of entry, sits on the western side of the tip. Toward the bottom right side of the image is a portion of the northwestern edge of the Sahara Desert, known as the Great Western Erg in Algeria.
Text and image courtesy of NASA's MODIS Land Rapid Response Team.